Oslo Gardermoen International Airport Parking
Unbeatable Value Airport Parking
Compare Parking Prices at Oslo Gardermoen Airport
checkBest price guarantee
checkCompare all parking operators
checkOver 4 million happy customers
checkOptions for all budgets
checkFree no-hassle cancellations


Useful information about airport parking at Oslo Gardermoen Airport
Oslo Airport is located some 47 km north of Oslo, the capital city of Norway. Getting to the airport and hiring a car is easy, as the airport is very well connected to the rest of Norway with a modern road network, a train station and bus services. All the major car hire companies have a service desk at the arrivals hall.
Oslo Airport parking is allocated to some 16,000 parking spaces. There are two multi-storey car park buildings and six outdoor parking areas with more being planned, when the airport expansion has been finalised.
The outdoor parking spaces are currently divided into areas P1 to P6 and are all within walking distance of the terminal building. A free shuttle bus will take arrivals and departures at Oslo Airport to their vehicles at the other parking areas and this service runs every 15 minutes from outside the arrivals hall.
Payment must be made via a credit card, when either entering or exiting Oslo Airport parking, but passengers can also draw a ticket upon entry and pay at the machines provided before picking up their vehicle. Depending on where one parks, prices range from NOK 20.00 to NOK 55.00 per hour and NOK 150.00 to NOK 290.00 per day. It is possible to pre-book parking and this is certainly recommended for long and short term parking at Oslo Airport during the busy summer months and during peak times in the winter, when winter sport enthusiasts come to Norway for the skiing, sledging and snowboarding.
There are electronic signs showing passengers how many parking spaces are still available in each parking area, so they do not have to cruise around aimlessly to find a space, when they have neglected to pre-book their space for long and short term parking at Oslo Airport.
For passengers in a hurry to catch their flight, there's the Express Parking Service. Late passengers should follow the signs to the short-term parking spaces by the departures hall and park their vehicle where indicated. Once a passenger has completed the form on the key envelope, they should retain their receipt in a safe place and deposit the envelope with the keys in EuroPark's drop safe, which is located nearby. Airport personnel will park the passenger's car in multi-storey car park P10. Upon return to Oslo Airport, passengers cars will be brought to the parking area 1B in the multi-storey car park, right next to the 24 reception desk.
This service is payable on top of the normal parking fee for long and short term parking at Oslo Airport and the Express Parking Fee is NOK 125.00 while the pick up charge is NOK 100.00.
Environmentally conscious drivers with electric cars will find specially designated areas in P10 multi-storey car park, where eight spaces have been reserved in area 2F for electric cars needing recharging. In the P11 car park there are just 3 spaces to the left of the entrance. There is no additional charge on top of the parking fee for this service.
In P10 disabled passengers or passengers with reduced mobility will find 34 reserved spaces for their use. These parking spaces can be found in area 1B. At P2 there are an additional 3 spaces reserved for disabled drivers and two further spaces can be found in P6 car parking lot. Right outside the terminal building there are reserved spaces for loading and unloading larger vehicles like mini buses or people carriers bringing or picking up disabled passengers.
Parking Operators at Oslo Gardermoen Airport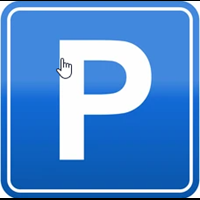 Car Parks at Oslo Gardermoen Airport
| Name | Address | Opening Hours | On Airport Grounds | |
| --- | --- | --- | --- | --- |
| Oslo-Ekspressparkering | 2060 Gardermoen, Norway | - | done | |
| Gardermoen Parkering 2 | Museumsvegen, 2060 Gardermoen, Norway | Mon-Sun: 00:00 - 24:00 | close | |
| Gardermoen Parkering | Museumsvegen 15, 2060 Gardermoen, Norway | Mon-Sun: 00:00 - 24:00 | close | |
| Oslo Lufthavn, P2 | 2060 Gardermoen, Norway | Mon-Sun: 00:00 - 24:00 | done | |
| Oslo-P10 Langtidsparkering | 2060 Gardermoen, Norway | - | done | |
| Oslo Lufthavn-P11 Langtidsparkering | Tårnvegen 9, 2060 Gardermoen, Norway | Mon-Sun: 00:00 - 24:00 | done | |
| Hans Gaarders Veg 42 | Hans Gaarders veg 42, 2060 Gardermoen, Norway | Mon-Sun: 00:00 - 24:00 | close | |
| Dalen Parkering | Hans Gaarders veg 42, 2060 Gardermoen, Norway | - | close | |
| Oslo-P2 Langtidsparkering | 2060 Gardermoen, Norway | - | done | |
| Flight Park | Sigrid Undseths plass 1, 2060 Gardermoen, Norway | Mon-Sun: 00:00 - 24:00 | done | |
| Oslo Lufthavn-P6 Langtidsparkering | 2060 Gardermoen, Norway | - | done | |
| Oslo-Langtidsparkering | 2060 Gardermoen, Norway | - | close | |
| Oslo-P1 Langtidsparkering | Tårnvegen, 2060 Gardermoen, Norway | - | done | |
| Gardemoen | Hans Gaarders veg 42, 2060 Gardermoen, Norway | - | close | |
| Oslo-Korttidsparkering | 2060 Gardermoen, Norway | - | done | |
| Oslo-Langtidsparkering | 2060 Gardermoen, Norway | - | done | |
| Flight Park | Gudrun Bjerkes veg 16, 2060 Gardermoen, Norway | Mon-Sun: 00:00 - 24:00 | close | |
| Oslo Lufthavn, P1 | Tårnvegen 7, 2060 Gardermoen, Norway | Mon-Sun: 00:00 - 24:00 | done | |
| Gardermoen Hotel | Henrik Ibsens veg 4, 2060 Gardermoen, Norway | - | done | |
| Oslo Lufthavn P0 | 2060 Gardermoen, Norway | Mon-Sun: 00:00 - 24:00 | done | |
Map of Car Parks at Oslo Gardermoen Airport Frequently Asked Questions - Oslo Gardermoen Airport Parking
{"@context":"https://schema.org","@type":"ParkingFacility","name":"Flight Park AS Oslo Lufthavn Gardermoen","address":"Gardermovegen Kopperudmoen Akershus 2060","geo":{"@type":"GeoCoordinates","latitude":60.202778,"longitude":11.083889},"openingHours":"Mo-Su"}